Are you a real Indian who wants to enjoy Independence Day full of joy and happiness? And are you looking for a powerful speaker who can provide you with the whole atmosphere of this enduring Independence Day? If yes, let me introduce you to some of the best speakers who will make your independence day memorable. On this beautiful day, everyone wants to celebrate the great independence of the great Indian society. To bring a whole new vibe to this great day, you will need a power pack sound speaker, which is listed below.
1) Maxobull Tornado Bluetooth Speaker
Hoping for a significant tornado speaker that can thrill the whole house? Then Maxobull tornado Bluetooth speakers are probably the best speaker for you. This fantastic tornado Bluetooth speaker consists of 5.0 Bluetooth versions, so you don't have to sweat about connecting this speaker with your device. 
Because of this Bluetooth 5.0, this Bluetooth speaker has a range of 10m. Maxobull tornado Bluetooth speakers also have massive 20w power output with a 300mAh battery capacity. This Bluetooth tornado speaker can connect with iPhone/ Android/ Smartphone, PC/laptop, MP3 players/ Tablets, and TV/DVD Players. 
You will be stunned by knowing the fact that the battery life of this fantastic Bluetooth tornado is 10hr, and the charging time is only 2hr, which makes this Bluetooth tornado more unique. This tornado also comes along with configuration 3, and the signal to the noise ratio is about 25DB.
2) Maxobull Eiffel tower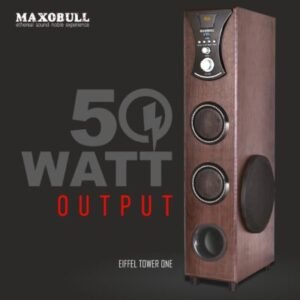 Want to celebrate the glorious Independence Day with all your friends and family? Then Maxobull Eiffel tower is the best choice for you. Maxobull Eiffel tower is a complete system pack device that can give you a remarkable sound experience. This fantastic Eiffel tower comprises unimaginable features like BT, LED display, Built-in FM, USB and SD/MMC, Karaoke function with dual microphone jacks, and Support of MP3/WMA file format. After having this many features, this Eiffel tower also possesses Full function remote control. If we look at specifications, this classy-looking tower has a gigantic output of 50w. 
It comes with PMPO: 8000w and imported coil 45*9, 5.25 woofers, and 90*70 magnets which will provide you ethereal sound Nobel experience. Using this astonishing Bluetooth tower, you can speak with more power in your corporate meeting. Besides the corporate world, this sound tower can be used daily for entertainment, event, celebration, festival or long movie nights. 
Because of its thumping bass, it will cultivate the environment according to your mood. If you want to experience the feel of theatre at home, this tower can bring the same feel at home with its excellent characteristics for a glorious sound experience. This sound tower can be connected to the LED TV, which is like a dream come true for gamers and movie lovers who want to feel the real adventure of the game or the real thrill of the movie.
So these are the marvellous Bluetooth speakers you can get to enjoy a glorious day of independence.