In the new and rousing era of wireless, there is always tremendous fun and excitement. Moreover, it makes our life so simple and super cool. And if we talk about Bluetooth wireless speakers, then it has unbeatable benefits, excitement and of course comfort. Bluetooth speakers are in-built Bluetooth chip, works with Bluetooth connections unlike the traditional wire connections with long setup audio equipment. Then why still using that outmoded setups of audio connections? Switch to a modish version of Bluetooth speakers to feel the level of convenience and magnificent sound quality.
Do you enjoy partying with friends and family? Or do you enjoy listening to loud music in a room with yourself? It's the best companion for your lonely times and parties with friends and peers, without thinking twice with these Mojo speakers anytime anywhere.
Though there are lot many options of Bluetooth speakers available in the market but the product  Maxobull is adding to its range has a commendable performance level that you must experience. Our MOJO littlepods Bluetooth speaker is a stupendous audio device. Stylish, portable, smart speaker with deep bass-boom that delivers thunderous audio.
Clarity is more important than sheer power and a balanced HD sound should be your motive while picking up the right choice of Bluetooth speaker for you. Larger speakers generally offer fuller sound and richer bass but they can be more expensive and often not portable whereas small, battery-powered Bluetooth speakers are nowadays, considered more practical as these are easy to carry anywhere. In fact, these Mojo mini speakers are the best fit for your pockets. Isn't it interesting to carry your speakers in the pocket. Moreover, small portable speakers are much economical than the bigger ones. You don't need to think twice before buying this mini piece of thunder voice.
What makes it best??
This small cylindrical sized speaker can give a room-filling sound and it will leave you astounded. Rough, tough and good for any adventure, squeezed into any suitcase or backpack. It also features a built-in microphone for taking calls and makes easy wireless connections whenever and wherever you want. You can control it from your Bluetooth device, and a built-in microphone gives access in taking calls and accessing Siri. Moreover, its superb metallic finish exceptional sound quality without the hassle of messy and tangle-prone wiring makes it worth buying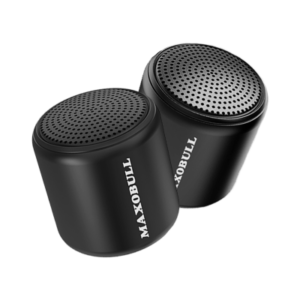 TWS technology speakers
It's a perfect companion for bedrooms and hall and delivers a full, rich sound that belies its size.
The implementation of this technology is based on the development of chip technology. At present, only a few manufacturers can implement this technology. True Wireless Stereo refers to a technology that allows you to pair two audio devices via Bluetooth. This product gives an excellent technological performance as true Wireless Stereo technology sync two speakers and doubles the power. Configure both speakers for high-quality stereo sound. TWS technology allows you to pair two portable wireless Bluetooth speakers to your device meanwhile, audio can be played in sync on two Bluetooth speakers as left/right channel outputs respectively, for true double enhanced stereo sound.
Pocket size, tiny portable speaker
Those days are gone when you need a proper sounding set up to listen to high bass sounds. The Era has changed and substituted these setups with an unbelievable sounding speaker that is highly portable. Mojo mini speakers are a practically best speaker for all the occasions. Smartly and perfectly designed 360-degree rounding speakers giving omnidirectional sound experience surprisingly belies its size and can be tossed into your backpack without a hitch giving you anywhere everywhere loud thundering music to dance or enjoy with. You can take these for your car journeys, and yeah, it might be your best choice for your picnics. It can boost up your mood level even at home, by accompanying you in your balcony time, your garden time, and even in the kitchen and list is never-ending that how practical this product is. It's a fantabulous "Chhota packet" filling the emptiness of your life with its bombastic sound experience.
 Loud 360° clear audio
When life got boring and there is nothing to cheer up than not to worry because our mojo mini speaker is meant to cheer you up with its loud and amazing sound quality that will not only buck up your mood but also encourage your social life and party moods. It is not just loud, it's a thunderous voice experience in a tiny speaker with 360° omnidirectional room-filling sound diffusion which makes it special in all sense providing you high-quality clear notes and immersive bass.
The Google Whisperer and built-in mic- one-button control
Google assistance is now actively penetrating every area of our lives. How superb and comfort it is, this mini pack filled with fantabulous features, also offers you Google/ Siri assistance. Your command with just pressing a button "voice assistance" will start your conversation with google/Siri. Also, it delivers you far-field voice recognition. With an inbuilt mic, you can go hands-free and talk endlessly by connecting your phone to the speaker with just one button control. Operate all the functions of this mini speaker by pressing just a single button.
 Adventure Companion- Rugged and splashproof
Preparing a list of things to carry for a holiday?? Clothes swimsuit, shoes, toothbrush… don't forget to take your mini Bluetooth speaker along. You might be a frequent traveler, and there should always be a refreshing companion to fill your travel with excitement and all the way fun. What about a portable, mini, and comfortable speaker that can give you your type of music anytime anyway. Thanks to this mojo speaker that delivers a bombastic room-filling sound that will never let your travel time to become boredom.
Mini speaker with IPX5 water resistance is splashproof and offers a rugged, rubberized design that is perfect for outdoor and active access over it. Specifically designed to best all odd rain showers or any accidental spillage that guarantees your product higher durability.
Superb connectivity and hefty bass
No more connectivity issues, no Bluetooth challenges and ofcourse no mood spoilage in your party time or music time because when we talk mojo mini speakers, then they cannot beat any other product in terms of connectivity with latest Bluetooth version 5.0 provides more stable and fluent transmission without any lags, and lower power consumption, that ensures you the best use of your speaker with thunderous bass and fidelity audio. It delivers you superb sound quality with the clarity of high-low notes and HD sound effect that will make you deny that it's just a tiny speaker that you are listening to and you will love the stereo sound that it delivers you.
 Faultless build
Scratchless body, metallic finish, exquisite size, can be held in your hand and faultless look will make you crazy over it. Have you ever seen a perfect gadget so far?? If not, then you must experience the feel, comfort and extraordinary benefits of this mini speaker and maxobull are one of those companies that are built on customer trust. This product will earn your trust to maxobull and you must experience it. It has a handy strap with a speaker that makes it easier to carry and handle and thus, offers the product more high durability and comfort.
 4 hours music playtime
Big and powerful speakers consume much battery, whereas smaller speakers consume less. Tiny the size, and larger the battery. Sounds silly, but, it's true. Thanks to mojo speaker, that ensures 3-4 hours of continuous music with the charge of just 1 jour. Its 400mah inbuilt battery and about 72 hours of standby is a true justice to the music lovers. The fun will soon end if it runs out of battery, but, this piece of perfection will never let you stop.
"COMPACT YET POWERFUL- TAKE YOUR MUSIC WHEREVER YOU GO"