To introduce a brand new Power pod in India, Maxobull had a glorious launching event full of fun, and everyone there enjoyed their time. In this fantastic event, Maxobull introduced its budget power pod, which will bring a whole new genre. As mentioned above, an ordinary person can afford this power pod. Maxobull observed in the market that most earphones have very overrated prices because the average person can't think of purchasing them by encountering this issue. Maxobull introduced a budget power pod in the Indian market during this spectacular event. The event was full of people, and everyone was very excited to know what the new product Maxobull was launching was. The event was in the form of a fashion show, and the semi-final of this fantastic fashion show will be in the next coming two months. Maxobull power pods were introduced during this fashion show, and everyone was stunned by the qualities and qualities of this excellent power pod.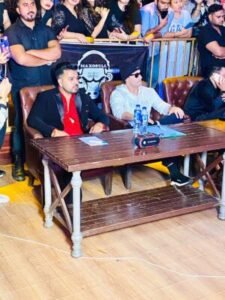 These power pods provide a 1200 mAH charging case which is very surprising because, through this power pod, you can also charge your phone. Because of this outstanding quality, you don't have to worry about charging problems, which is a frequent issue in earphones nowadays. Along with this massive battery life, these power pods also give you nonstop 238 hours of music time so that you can use this power pod all day in your daily life. And this will provide you ethereal sound Nobel experience without any interruption. With this long music time, you can see your favourite movie/ series without worrying about music time. This power pod also consists transparent case cap, which looks very dazzling. After providing all these unique qualities, Maxobull also took care of the most crucial issue in earphones: their design. Considering this aspect of the earphones, Maxobull provides colourful gaming night lights, enhancing its classy look. But it's not like this power pod will lower its sturdy quality after getting the elegant and extraordinary look.
Even with this stunning look, this power pod is solid and sturdy, and the reason behind this durability is its production material. Maxobull power pods are made of concrete and durable material, ensuring their quality. Because of the combination of classy look and durability, this power pod seems elegant and extraordinary, which is why people were curious to know more about this power pod. In this bright and gorgeous event, everyone was enjoying every second while watching a fashion show. To add extra charm to this event, Maxobull invited a special guest who was none other than the finalist of the big boss and very known rapper, composer, and lyricist Asim Riaz, who is primarily known for his songs with Himanshi Khurana. And as a second special guest, Maxobull invited Sagar Anand from splitsville. When they came to this event, the event became more energetic and watching them live surprised people because they are well-known artists. Asim Riaz also performed on stage. Everyone was chilling while eating snacks and watching a magnificent fashion show; splendid ladies and gentlemen were holding Maxobull power pods while doing their fashion show. In the end, Asim Riaz gave a very gracious and heart-pounding speech that motivated people. I can safely say that this launch was successful, and everyone enjoyed every spit second of this fabulous event.