VARIETY OF EARPOD BRANDS IN THE MARKET| CHOOSE THE BEST| SPEND WISELY
Its not that we use technology, we live technology. Life today is moving at high pace and to match that pace we need to shift ourself to another level of technology that market is offering us with every new day passes. And if we talk about ear pods then it's not a fashion product but a necessity to meet up our day to day busy life activities. Earpods are innovative and wireless pair of tools that are designed specifically parallel to the geometry of ears which makes them more comfortable and brings you high audio experience for your all-purpose enjoyments, day-to-day activities and a co-partner in your gymming section. If you are a new and a wise buyer then you are at right place to choose the right among some top rated earpod brands with all your questions answered here. Through this article we will make you familiar with the high-tech benefits of earpods and which one is the right choice for you.
WHY CHOOSE EARPODS??
Are you passionate about music?? Is your life is stuck with so much calls and pressure?? Ah! If yes then you need a perfect solution to meet your passion and work simultaneously. The right answer of all your questions is "EARPODS" .Unlike traditional style headphones, ear pods provide you faster pairing and stable connections. Moreover, if we consider comfortability then earpods have beaten all other Bluetooth devices as they give you Effortless comfort and stylish fit that you can carry whole day out. Better sound quality with high degree of noise cancellation power, an earpod offers you. Easy to handle, compact and stylish product offers you ample of benefits that you cannot resist to buy. But the question arises that there are so many options available in the market claiming their product the best among all, which one is the right choice for you is a wise decision you have to make. But don't worry we have studied some best options for you personally to help you out.
Each product listed here is a popular choice product. People generally choose the product on price basis but choosing product just because of price only is not justice to you and your passion too.
So make sure you make right choice and figure out the true wireless earpods justifying your lifestyle and needs too.
TOP RATED EARPODS WITH FEATURES
Noise shots x-buds full touch control true wireless earphones
Boat Airdopes 311v2 true wireless earbuds.
Boat Airdopes 291 twin wireless Ear-buds.
Pod 2 wireless by Maxobull.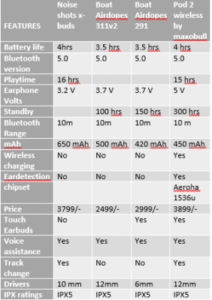 From the research and study of weeks, I have tried to conclude the bestest among these best options. So, let's talk about their features to select the best under your budget.
Noise shots x-buds
Noise shots x-buds are no-doubt all time choice of youngsters and work stuck people. Its hifi stereo sound quality categorize this piece of pods as premium one. It has a compact design and IPX5 water resistance also. But when it comes to battery experience noise shots x-buds are not satisfactory to fulfill this feature as they promise 3-4 hours of battery life but it is practically in use for about 2-3 hours and if we take "bass" into account then noise earbuds does not have powerfull sound bass. Though its 5.0 Bluetooth version offers good connectivity but it lacks in providing rich bass. Hey you, music and movie lovers, this could not be your 100% choice. For your special passion for music you need something special and satisfying.
Boat Airdopes 311v2
A good sound quality product with trendy design and super fashionable looks attracts everyone by its looks and sleek design. Inspite of having 10m of bluetooth range and commendable battery response it lacks at some points that did not allowed me to recommend the product. There are lot of connectivity issues in this product. Moreover, its Bluetooth compatibility is also poor. The product is not suitable for your workout sessions also. It is ofcourse not your compatible gymming friend.
Boat airdopes 291
The product is only recommended for hassle free calling as its mic is usable purposely for calling and its battery backup is very promising with 3-4 hours backup. Music lovers will not going to like the product at all as it does not provide any innovative ultimate bass and its sound experience is just like the conventional earphones only. It's having 5.0 Bluetooth but does not have good connectivity. It only satisfy your purpose of calling and recommended for those only who have stuck schedule in high frequency of calling work.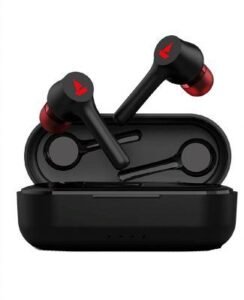 Why we recommend "POD 2" by the house of Maxobull?
You are music lover or gym lover, you have long hectic schedule of calling or you spend more than half of your day in your calling job, Maxobull's tremendous performance Pod 2 has beaten all the premium brand of wireless headphones in the market. The product is truly promising for all the features it specify and give 100% satisfaction and complete justice to the passionate people like you all. Performance level is fantastic wherever you use the product, whether it is your movie session or full day music playtime or you're calling purpose, it is super level fashionable, stylish, sleek and compatible wireless Bluetooth headphone.
Let's discuss some of its features:
Battery life:
Upto 4 hours of music or sound per charge with wireless charging that you must not have experienced ever before. Switch to maxobull's innovative product and enjoy your earpods with supportive wireless and super-fast charging.
Connectivity:
10m of Bluetooth range and seamless connections gives you an ensured connectivity and compatibility with its latest upgraded Bluetooth version 5.0. Enjoy all new experience with seamless connections.
Audio experience:
The super-rich and HD sound quality along with high bass and tremendous performance of pod 2 gonna steal your hearts. Premium audio reproduction with high tone frequency with extremely light weight earbuds are the exciting feature of the product.
Drivers and voice assistance:
Perfectly designed the light weight earbuds with 12 mm drivers offers you high tone fabulous frequency and premium audio experience. Moreover, multifunctional button with easy access to voice assistance will never gonna stop your daily life functioning and will always place you on the top of the world.
Glitch-free sound experience:
Experience your music and call with all new glitch-free experience with no connectivity problem and no technical issues. Also, IPX5 water resistance will help you're in your sweatiest workouts and outings. So no space for any kind of stoppage with the pod 2 wireless Bluetooth.
Track changing feature:
The unbeaten superb experience that made me crazy over the product is its track changing feature that allows you to change your track (song) with just 3 taps on left for previous track and 3 taps on right to play next song.
Trust me viewers, you can never go wrong in buying these pod 2 by maxobull in the very nominal range and premium quality high level features.
"Let the beat goes on"